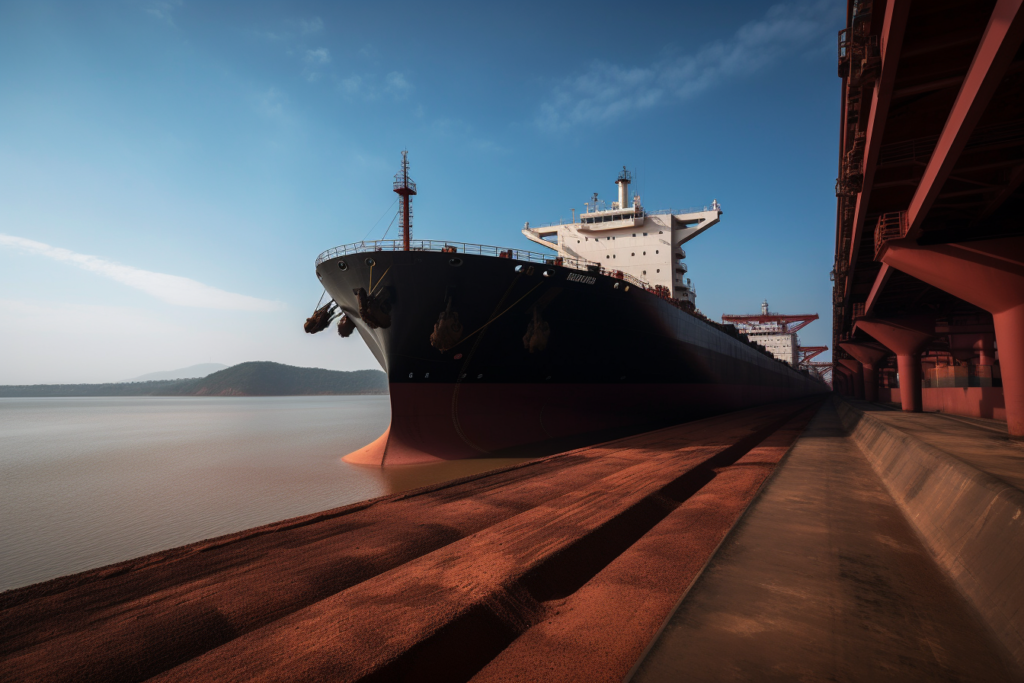 A reassuring experience for global shipping markets in recent months has been signs of a revival in China's commodity imports. These are closely watched because seaborne cargo imports into China comprise almost a quarter of the world total. Moreover growth in these cargoes has contributed much of world seaborne trade's expansion this century.
Calculations show that China's seaborne imports of all types currently contribute 23% of the global volume. Focusing on dry bulk cargoes, these comprise a much higher proportion of this segment's world total, at 36%. In the oil and liquefied gas segments imports into China are 16-17% of world volumes, while container imports comprise a lower 6% of that segments total.
Although many cargoes imported into, or exported from, China are carried by ships in the China-owned fleet, foreign owners also are heavily involved. As a result there are large repercussions in global freight markets when volumes of movements, and related changes in geographical trading patterns occur.
In every year since the turn of the century China's seaborne imports increased, at widely varying annual rates of growth, up to and including 2020. Then in 2021 the total was flat, followed by a 5% decrease in 2022, when 2,712 million tonnes of all cargoes was imported according to Clarksons Research data.
The weakening last year was mainly caused by lower dry bulk imports, particularly coal, grain and minor bulks. Most other categories experienced some reduction, including oil, liquefied gas, chemicals and container movements. The downturn reflected a sluggish economy with a 2022 gross domestic product growth rate of only 3%. This slow pace, compared with previous progress, occurred amid the Chinese government's restrictions designed to control covid pandemic infections. These controls adversely affected commercial activity generally, and accompanied difficulties in the residential property market.
One notable feature last year was reductions in energy commodity imports. Seaborne volumes of coal, oil and gas were down by 16%, 2% and 13% respectively from the previous year due to either subdued demand, or higher domestic energy commodity production, or both.
What changes are unfolding in 2023? A strengthening trend appeared to be gaining momentum in the first half when volumes seen in a number of China's commodity import trades exceeded quantities recorded during last year's same period. Whether this brisker pace can be maintained in the second half and into 2024 is not yet clear.
Figures based on reported China Customs data covering the January to June 2023 half year show some large increases in individual commodity trades. Iron ore, the biggest single commodity import movement into China, increased by 8% compared with the first six months of last year to 576mt. Coal imports almost doubled to 222mt and crude oil imports were 12% higher at 282mt (some land movements are included in these volumes).                 
An uncertainty surrounding prospects for commodity imports in second half 2023 and beyond is the pace of economic growth. China's economy rebounded sharply in the first quarter of this year immediately after the ending of covid controls. Among observers there were expectations of a robust trend continuing. But the recovery has faltered in recent months, as business and consumer spending moderated, the residential property market remained subdued, and the manufactured exports trend slackened.
Data just published reveals that China's GDP growth slowed from 2.2% in the January-March 2023 quarter, to 0.8% in April-June (based on comparison with the preceding quarter). This outcome has accentuated doubts about how the economy will progress over the remainder of this year. Analysts have suggested that another monetary and fiscal policy boost is needed to provide more support for economic activity. Such a package, depending on its content, could strengthen commodity imports.   
Despite recent events, some forecasts still point to growth in China's seaborne imports during the current year as a whole. Prospects for many commodities suggest a partial reversal of the downturns seen in 2022 or, in some cases, larger increases. The Chinese economy apparently has entered a longer-term phase of relatively modest evolution compared with past vigorous expansion. Nevertheless enlargement, at least in the near future could continue to benefit cargo movements, buoying global shipping markets.
Please contact the author if you have any questions or comments, at: bulkshipan@aol.com
Any opinions expressed by contributors do not necessarily reflect the views of the Chinese Shipping Association of London. Content provided are for informational purposes only.